Dirk Beijen
Dirk Beijen (10.1), the oldest son of Jan Thomas Beijen, was born in Benschop in 1770. In 1790 he married Barbara de Jong(h) who was born in Benschop as well. After their wedding Dirk and Barbara lived for a number of years in Bodegraven, the birthplace of Dirk's mother. Around 1807 Dirk came back to Benschop. He had various occupations: he was a farmer and for some years a merchant.
In 1815 Barbara died in Bodegraven. In the death certificate she was mentioned as the servant of a Bodegraven farmer. This could be an indication that she and Dirk had broken up. Dirk died in 1831 in Benschop.
Amel Beijen
Dirk's only son was Amel Beijen (11.2). He was born in 1791 in Bodegraven. His first name was derived from his mother's father.
Amel was a farmer, first in Polsbroek (near Benschop) and later in Benschop. In 1820 he married Jannigje de Jong, with whom he had eight children. After her death in 1833 he married Trijntje van 't Hoog, with whom he had nine other children. Five of the seventeen children died in infancy.
Amel himself died in 1848, 56 years old. At that moment eight of children were still less than 14 years old.

The surname Beijen was passed to later generations via four of Amel's children: his sons Pieter and Willem from his first marriage and his son Dirk and his daughter Janna from his second marriage. They are discussed later on this page. The little overview below shows the number of their present descendants who have the surname Beijen.


Pieter Beijen and his descendants
Pieter Beijen (12.3) was the eldest son of Amel. He was born in Polsbroek in 1821. In 1847 he married Hendrika Hermina Maaijen in Benschop. Pieter and Hendrika had ten children, three of whom died in infancy. During all his active life Pieter was a farmer in Benschop. He died there in 1878.
Some of his descendants:
Gerrit Beijen (13.2) (1849-1927), Pieter's eldest son, was for many years a farmer. In later years he was gamekeeper and steward of the noble Strick van Linschoten family, around 1906 he was the collector of the municipality of Benschop, and he was also a café proprietor. According to a biographer of the Dutch writer Herman de Man,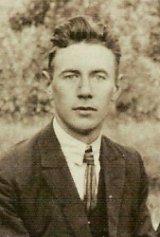 Gerrit Beijen has served as a model for 'mijnheer Lafayette', a character in one of the novels of Herman de Man.
Pieter Martinus Beijen (14.2) (1901-1977), whose picture is on the right, was a son of Gerrit. He was a teacher at schools in Gouderak and The Hague. After the Second World War he was a teacher at the Central Institute for the Education of Sport Leaders (CIOS). For a number of years he was the deputy director of CIOS. Piet Beijen (as he was called) was a capable organizer and he has played an important role in many branches of sports. In 1947 he was one of the founders of the Dutch Volleyball Association (NeVoBo). For many years he was a member of the Central Board of NeVoBo and for some years vice-chairman.
Anna Hendrika Hermina Beijen (13.10) (1864-1944), the youngest daughter of the first mentioned Pieter, was married to a distant relative (third cousin), Ruth Beijen (13.55) (1864-1910) from the Gerrit subbranch. In the past, Ruth was not only a feminine, but also a masculine name in Dutch!

Willem Beijen and his descendants
Willem Beijen (12.8) was the youngest son from Amel Beijen's first marriage. He was born in Polsbroek in 1830. In 1853 he married in Benschop Annigje Brouwer. They had ten children, nine of whom reached adulthood. In accordance with the family tradition, Willem was a farmer. In addition he was for many years collector or administrator of the Dutch Reformed Church in Benschop. He died in 1895. His widow Annigje Brouwer outlived him for many years and died in 1923.

Gijsbert Beijen (13.11) (1854-1932), Willem's eldest son, married in 1888 Wijntje Lekkerkerker who was born in Gouderak. Just like his father, Gijsbert was a farmer, but he did not live in Benschop: at first he moved to Papekop and later on to Jaarsveld. Both villages are not far from Benschop. Gijsbert and Wijntje had twelve children, three of whom died in infancy.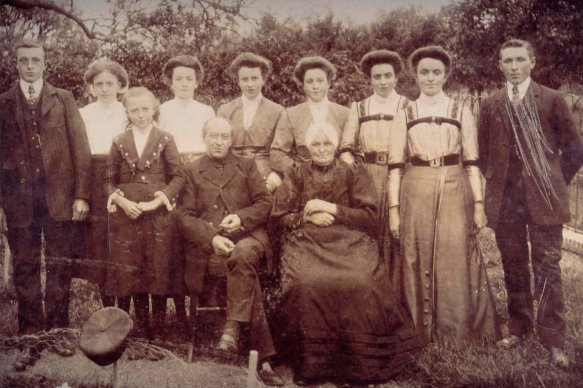 Above is a picture from about 1915 that shows Gijsbert, Wijntje and their nine children who reached adulthood. The son at the right is Willem (14.10) and the one at the left is Pieter (14.16). The six daughters at the back row are wearing two by two the same dresses, and are also neatly ordered by age: from right to left Marrigje (14.11), Annigje (14.12), Trijntje (14.14), Wijntje (14.17), Jansje (Hanna) (14.18) and Adriana (Rie) (14.20). The little girl next to her father is the youngest daughter Gijsberta (Berta) (14.21).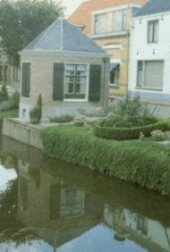 Cornelis Pieter Beijen (13.20) (1874-1929), Willem's youngest son, bought in 1907 a house on the corner of the Town Square and the Canal in the centre of Benschop. In the back part of the house he established the local post office. He let the front part to the Jewish family Hamburger, who had a textile shop. In later years the youngest son of that family was known as the writer Herman de Man. Therefore this house is now called the Herman de Man House.
An annex to the house was the little tea house near the canal that is depicted here. About 1934 a conflict arose between the municipality of Benschop and the Beijen family about the ownership of the little gardens on both sides of the tea house. When the municipality claimed the possession of the parcels, the Beijens went to court. Finally, there was no need for a judicial decision: in 1935 the municipality accepted that the gardens belonged to the Beijen family. The Herman de Man House and the tea house remained in the possession of the Beijen family until 1960. In that year the widow of Cornelis Pieter Beijen passed away.
Dirk Beijen and his descendants
Dirk Beijen (12.10) was a son from the second marriage of Amel. He was born in Benschop in 1836. Dirk was a farm hand in Gouderak, south of Gouda. In 1856 he married there Cornelia Huge. Dirk and Cornelia lived in Gouderak for the rest of their lives. They had eleven children, six of whom reached adulthood. In the registers of births, deaths and marriages Dirk was mostly mentioned as a worker, but also once as a shopkeeper and once as a pub owner. The reason is that in addition to his work as a farm hand he ran, together with his wife, the pub 'Sint Joris' (St. George) in Gouderak.
Dirk died in 1875, only 39 years old. Cornelia, who was known in Gouderak as Kee Beijen, went on with the pub for many years. She died in 1903.

All of the three adult sons of Dirk Beijen, Amel (13.23), Rudolf Christiaan (13.29) and Jan Thomas (13.31), were bakers. Only Amel had descendants who continued the name Beijen. The six children of Rudolf Christiaan were all girls and Jan Thomas died at a rather young age.
Janna Beijen and her descendants
Janna Beijen (12.17) was the youngest daughter of Amel Beijen. Her father died when she was two years old. In 1865, when she was nineteen years old and not yet married, she gave birth to a son, Andries Johannes Beijen (13.32). One year later Janna married the merchant Arie Oskam from Lopik. They lived at first in Lopik and later in the neighbouring town of Ameide. From their marriage sixteen children were born. Of course, they had the name Oskam. Arie Oskam died in 1917, Janna Beijen, 81 years old, in 1927.
Unlike the usual procedure Arie Oskam did not recognize Andries Johannes as his son when he married Janna. Therefore the child, who was usually called

Hannes

, kept the surname Beijen. He grew up with his grandmother Trijntje van 't Hoog, the widow of Amel Beijen, in Benschop.
In 1891 Hannes married Aaltje van Ee. In 1900 they moved with their family to Rotterdam. Hannes worked there as a coach driver and a stableman. He died in 1943.
Hannes had numerous offspring. Most of them live in the Rotterdam area.