Maarten Beijen
Maarten Beijen (10.4), the second son of Jan Thomas Beijen, was born in 1774 in Benschop. In 1799 he married Maggeltje Boele, who was born in Benschop as well.
Maarten and Maggeltje lived in one of the farms in Bodegraven that belonged to Maarten's father. In 1828, when Jan Thomas Beijen's estate was divided, the farm where Maarten lived and the adjacent farmland were apportioned to him.
Maarten died in 1834 at the age of 59. Maggeltje died in 1858.
Maarten's children
Maarten and Maggeltje had nine children, eight of whom reached adulthood. Four of them did not marry: Jannegje (11.5), Jan Thomas (11.7), Cornelis (11.9) and Willem (11.10). After the death of their parents they continued living on the family farm.
The four other children, Amilia (11.6), Cornelia (11.11), Gerrit (11.12) and Aagie (11.13), did marry. However, Cornelia and her husband Jan van Briemen died some years later. Their two children, Aaltje and Maarten van Briemen, were brought up by their grandmother Maggeltje Boele, their aunt Jannegje Beijen and their unmarried uncles. When his uncles became older, Maarten van Briemen took over the ancestral farm.
Gerrit Beijen (Maarten's son)
The only son of Maarten and Maggeltje who had offspring in the Beijen line was the above-mentioned Gerrit Beijen (11.12), who was born in 1816. In 1842 he married Dirkje Hoogendoorn, who was born in Bodegraven as well. Gerrit and Dirkje lived on a farm in Bodegraven that Gerrit rented from his uncle Pieter Beijen (10.12). After the death of Pieter and his widow, Gerrit bought this farm at a public auction. It was given the name Beijenveld (Beijen field).
Dirkje died in 1871, Gerrit in 1875. They had no less than thirteen children. In 1875 eight of their children were still alive. Among them were three sons.
The middle son, Hendrik (12.21), joined the army in the Dutch East Indies in 1876. He died there in 1886.
The other sons, Maarten and Frederik, are discussed below.
Maarten Beijen (Gerrit's son) and his offspring
The oldest son of Gerrit, Maarten Beijen (12.18), was born in 1842. In 1873 he married Adriana Kerkhoven, who was born in Bodegraven as well. Maarten continued the farming activities on the farm that had belonged to his father.
Maarten and Adriana had ten children, three of whom died at a young age. In 1901 Maarten left the farm and moved to Leiden, where he was a milkman. He died in 1917 in the village of Aarlanderveen.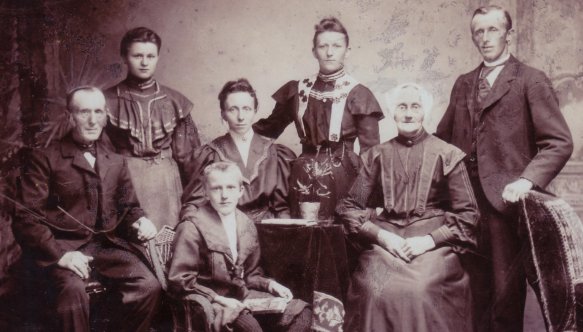 The photo above was probably made in or shortly after 1905. Besides Maarten and Adriana five of their children can be seen: at the back row from left to right: Margo (13.37), who was married to Rijk ten Brummeler, Dirkje (13.33), who did not marry, Maria (13.34), who was married to Willem van Dolder, and Gerrit (13.35), who was married to Cornelia Touw. In the front the youngest son Maarten Beijen Junior (13.42) is sitting.
The last Maarten married Jacoba Johanna van der Kamp and after her death Jansje Drenth. He was a tram driver in The Hague. His youngest son, Jan Beijen (14.53) (1932-1969), emigrated to New Zealand. He was a pilot and died in 1969 in a helicopter accident. His offspring are still living in New Zealand.
Frederik Beijen and his offspring
The youngest son of Gerrit, Frederik (12.24), who was born in 1851, lived in the villages of Linschoten, Leiderdorp and Zoeterwoude. He worked as a farmer, a farm-hand and a bridge-keeper. He died in 1931.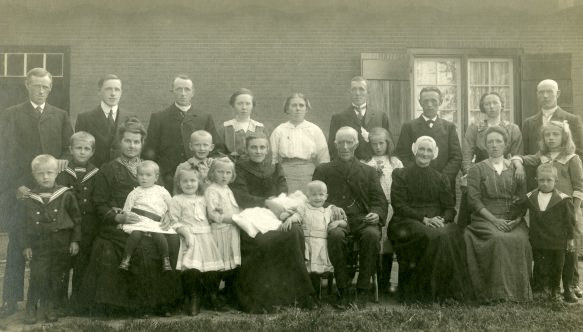 The picture above shows Frederik Beijen and his wife Jannigje Brand with their family. It was most likely made at the occasion of their fortieth wedding anniversary in 1916. Frederik and Jannigje are sitting to the right of the middle. At the back are from left to right their sons Gerard (13.47), Cornelis (13.49) and Anthonij (13.45), their daughter Neeltje (13.50), Mijntje Nap (a sister of Trijntje Nap who is mentioned below), their sons Maarten (13.48) and Gerrit (13.43), their daughter Jannigje (13.52) and Marinus Middelman (the husband of Dirkje). The three younger women who are sitting on the middle row are from left to right Maartje van Os (the wife of Gerard), Trijntje Nap (the wife of Anthonij) and their daughter Dirkje (13.46). Between them are the grandchildren.
Anthonij and Gerard had offspring with the name Beijen. Anthonij (Toon) lived in Harmelen, Woerden and Kamerik; Gerard in Zoeterwoude, Voorschoten, Sassenheim and Noordwijk.