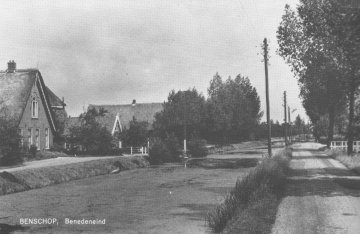 Harman (or Hermanus) Beijen (6.13) (1658-1739) was the link between the oldest generations and the Jan Thomas branch. Therefore he can also be found in generation 6 of the overview of the Jan Thomas branch.
Just as his brother Gijsbert, Harman was a 'chirurgijn' (a medical practitioner) in a town near IJsselstein. He settled in Benschop, west of IJsselstein. The picture on the right shows the Benschop canal as it was in the middle of the twentieth century.

In addition to his main occupation Harman was for a number of years burgomaster and alderman of Benschop (the burgomasters and aldermen were appointed for the year). His son, grandson and great-grandson had positions in the municipal administration as well:
Harman's son Dirck Beijen (7.2) (1685-1744) was a farmer and also alderman of Benschop;
Dirck's son Willem Beijen (8.2) (1719-1780) was for many years alderman and for some years burgomaster of Benschop;
Willem's son Jan Thomas Beijen (9.2) (1743-1827) was for a number of years alderman of Benschop.
Farmer, merchant, alderman and polder administrator
Jan Thomas Beijen (9.2), who can be considered as the central character of this branch, was born in 1743 in Benschop as a son of Willem Beijen and Janna Wartels. Jan Thomas had no brothers and only one sister, Christina (9.1). In 1770 he married Jannigje van den Bos from the town of Bodegraven. They had twelve children, who are mentioned at the end of this page.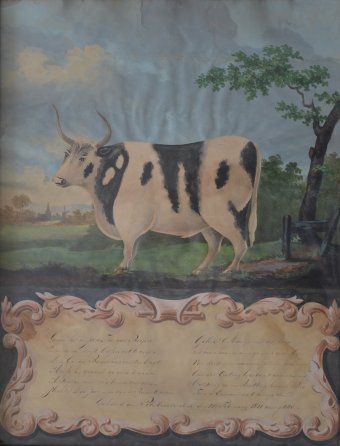 Jan Thomas' father had acquired considerable lots of land in the Benschop area and Jan Thomas did the same. His properties increased by his marriage: Jannigje was the daughter of a well-to-do farmer and cattle-dealer in Bodegraven.
Just like his ancestors Jan Thomas had administrative functions: for a number of years he was alderman of Benschop and member of the governing board of the polder. It seems however that he preferred to occupy himself with his work as a farmer and with the trade in cattle and immovable property.
At the end of his life, he owned ten farms in Benschop and Bodegraven and vast lots of land, particularly in Benschop, Bodegraven and Zwammerdam.
Jan Thomas was famous as a cattle breeder. Several pictures of an enormous ox that he had bred have been drawn. The poem under the pictures tells about an ox of 1,800 pounds that he had sold to a Jewish cattle trader. All inhabitants of the town of Schoonhoven had left their houses to see this unique animal.

The pictures of the family tree
Jannigje van den Bos passed away in 1799, 48 years old. Her husband Jan Thomas Beijen survived her for more than 28 years. He died in 1827, when he was 84 years old. By then eleven out of his twelve children were still alive. Jan Thomas had lived in Benschop during his whole life.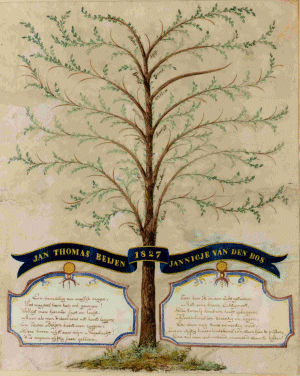 Shortly before his death, water colours were painted on which Jan Thomas, his wife and their offspring were depicted in a symbolic way in the form of a tree: his children as the main branches, his grandchildren as the side branches and his great-grandchildren as the leaves at the side branches.
It contains a poem, the translation of which is:
Possibly a stranger could ask:
What may be the meaning of this tree?
Perhaps one mocks and laughs about it.
But if one hears the explanation,
And hears Father Beijen saying:
"This tree indicates my Offspring!
Fifty nine years ago,
Then I entered into matrimony
With a honest Wife,
That has had twelve children,
Grandchildren seventy nine;
And also forty two dead.
Fifty one great-grandchildren are displayed here";
Then one will be looking surprised, astonished!
The offspring of Jan Thomas
Below is a schematic overview of the twelve children of Jan Thomas Beijen and their spouses.
Willem died when he was eighteen, Pieter got married but had no children. All of the other ten children had numerous offspring.

In the nineteenth century nearly all offspring of Jan Thomas and Jannigje still lived in the neighbourhood of Benschop and Bodegraven; many of them were farmers. It's not by chance that the main character in the well known novel Het wassende water (The growing water) by the writer Herman de Man was named Gieljan Beijen. The novel describes the life of farmers in this region, but the characters are fictitious.
At this moment tens of thousands offspring of Jan Thomas and Jannigje must be alive; only a few of them are farmers. About 200 offspring have the surname Beijen. Most of them live in the provinces of South-Holland and Utrecht.

Jan Thomas's offspring who have the surname Beijen belong to three subbranches: offspring of his sons Dirk, Maarten and Gerrit.
The Dirk subbranch, the Maarten subbranch and the Gerrit subbranch are discussed on separate pages.