Gerrit Beijen and Cornelia Oskam
Of the three sons of Jan Thomas Beijen who had offspring, Gerrit Beijen (10.9) was the youngest. He was born in 1783 in Benschop and married in 1810 Cornelia Oskam, who was born in the neighbouring village of Lopikerkapel.
Gerrit and Cornelia moved to a farm in Bodegraven on the south bank of the Old Rhine, nearby the farm of his brother Maarten. Just like Maarten he rented his farm from his father. In 1828, when Jan Thomas Beijen's estate was divided, Gerrit inherited a larger farm, also close by.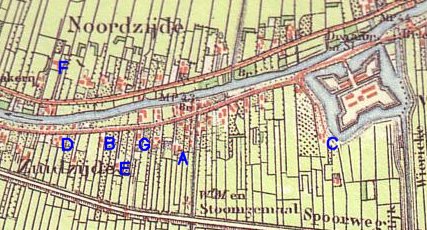 The map shows a part of the municipality of Bodegraven, east of the center of the village, as it was in 1887. Maarten's farm is marked with

A

, Gerrit's second farm with

B

. The farms

C

to

G

are discussed later on this page.

Gerrit and Cornelia had twelve children. The two youngest of them died at a very young age. The other ten children all reached adulthood.
Gerrit died in 1837 at the age of 53. At the time, two of his children, Jannigje (11.14) and Jilles (11.16), had married and left the parental farm. Eight others, the youngest of whom was only six years old, were still living at home.
After Gerrit's decease Cornelia Oskam continued the farming activities with the help of her three eldest unmarried sons. In the course of years the other children moved to other farms. Cornelia's farm had the name "Beijen-Zorg", which can be translated as "Beijen care", but also as "Beijen concern". Cornelia died in 1875 at the age of 84.
The children of Gerrit and Cornelia
Below is some information about the ten children of Gerrit and Cornelia who reached adulthood. It is striking that not less than five of their sons remained unmarried.