On this page some other members of the Nieuwkapelle family from the generations 6, 7 and 8 are discussed. Just like the former Minister Johan Willem (Wim) Beyen they descended from Karel Hubertus Beijen (5.17), who was mentioned on the page The Nieuwkapelle family in the 19th century.
Emil K.L.A. Beijen, electrical engineer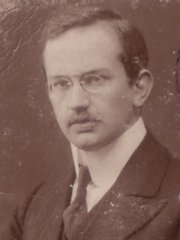 Emil Karel Lodewijk Alexander Beijen (6.6) was born in 1884 in Utrecht. He was a son of Karel Hubertus Beijen and his second wife Antoinette Wikinga Ramaer. Emil Beijen studied electrical engineering in Germany. In 1912 he married in Switzerland Margaretha Katharina Christina van der Borgh, who was born in the Netherlands. Later he moved with his wife to Altona near Hamburg, where he worked on the electrification of the city tram. In 1915 and 1917 their two eldest daughters were born there.
In 1917 or 1918 Emil Beijen returned to the Netherlands. He was employed by the municipal electricity company in Delft. In January 1920, when he was only 35 years of age, he died after a short illness from tuberculosis. His wife Margaretha van der Borgh was left with their three little daughters. Because her husband had not yet got a permanent appointment as a consequence of administrative problems, the municipality of Delft refused to grant her a pension.
Some months after Emil's death, his widow and their children moved in with her mother, who lived in Apeldoorn. She could support herself partly by writing poems, stories and serials that were published in various magazines. She also wrote some children's books. It was difficult to support herself by writing, but she was helped by a number of family members, among which was Johan Willem Beijen, the later Minister of Foreign Affairs.
Greet Beijen, killed in a concentration camp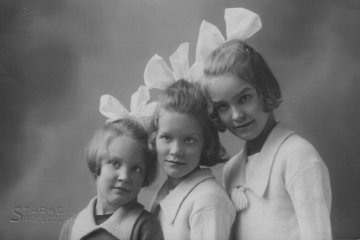 The life story of Emil Beijen's youngest daughter was very tragic. Her name was Margaretha Henriëtte Sofie Beijen (7.6), but she was usually called Greet or Greetje by her friends and relatives.
Greet Beijen was born in 1919. The picture at the right, showing Greet and her two elder sisters, was taken in 1925.
After obtaining her secondary school diploma in 1937, Greet wanted to study at the Agricultural University in Wageningen. Her mother and her sisters moved with her to Wageningen. However, after two years Greet stopped studying because in her view the program was too theoretical. In 1939 she moved to Amsterdam. She attended a school for nursery teachers and worked for an insurance company.
In Amsterdam Greet got acquainted with Bernardus (Ben) Dictus. He was born in 1916 and worked as an electrician. Against the urgent counsel of her mother Greet married him in March 1942.
Some months after the wedding a Jewish couple, Hans and Rosa Samosch, moved in with them. They had chosen to go underground because of the intensified persecution of the Jews by the German occupiers. The presence of the Samosch couple contributed to a worsening of the relation between Greet and Dictus. Dictus had joined the Dutch fascist party and Greet had quite different views.
In January 1943 the police raided their house. It is nearly certain that Dictus had told the police that Jews were hiding in the house. Greet and the Samosch couple were arrested and two days later handed over to the Germans.
Hans and Rosa Samosch were transported to the extermination camp Sobibor. They were killed there in May 1943. Greet Beijen was detained in a prison in Amsterdam. From the prison she could write some little letters to her mother. A part of one of these letters is depicted below.


In April 1943 Greet was transported to the prison in Scheveningen near The Hague. Some weeks later she was transported to Ravensbrück, a concentration camp for women, north of Berlin. She arrived there on May 18, 1943. On August 16 of that year she died, just 24 years old. We do not have information about the cause of her death, but it is common knowledge that countless prisoners in Ravensbrück were killed directly, starved to death or became the victims of medical experiments.
After the liberation of the Netherlands Bernardus Dictus was run in. He was accused of lending help and support to the enemy. After his wife had been arrested, he had served for a national socialist organisation, where he worked as a truck driver. The tribunal judged that there was sufficient proof of his membership of organizations that lent help to the enemy, but insufficient proof of the betrayal of his wife and the Jewish couple. He was sentenced to imprisonment for one year, but ultimately he was in prison for no more than four and a half months.
Louis H.J. Beijen, emigrated to America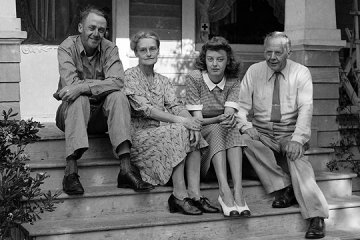 Just like Emil Beijen, Louis Henri Jacques Beijen (6.7) (1885-1973) was a son of Karel Hubertus from his second marriage. Around 1910 he emigrated to America, where he worked for Shell and other companies. He married the America-born Florence Cameron.
On the photo alongside Louis is sitting at the right. The other people are from right to left his daughter Kareline (7.9), his wife and his son Louis Jr. (7.7).
Louis Sr. kept his Dutch nationality until the end of his life. Some of his descendants in America still have the surname Beijen.

Bob and Henk Beyen, the brothers of the former Minister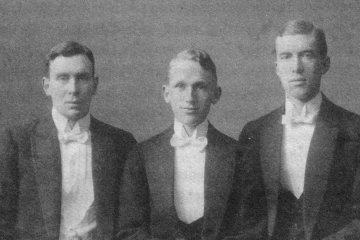 The former Minister Wim Beyen had an elder and a younger brother: Karel Lodewijk (7.1) and Hendrik Gerard (7.3). The first one was usually called

Bob

, the second one

Henk

.
The photo alongside, that shows from left to right Bob, Wim and Henk Beyen, was probably taken when Wim took his doctor's degree in 1919. The photo comes from the biography of Wim Beyen.

Bob Beyen (1892-1983) studied law. He was the secretary of the board of Heineken Breweries. In 1919 he married Marie Rudolphine Utermöhlen. They divorced in 1943. In 1945 Bob Beyen married Emilia Erzsébet Gyermek, who was born in Budapest and had been married before to Ferencz Mendlik. Two days before the second wedding of Bob Beyen Ferencz Mendlik married Bob's first wife Marie Utermöhlen.

Henk Beyen (1901-1965) studied classics and archeology in Utrecht. In 1928 he obtained his doctorate with the thesis Über Stilleben aus Pompeji und Herculaneum. He was a renowned authority on the classical and especially Pompeian paintings. From 1951 to 1954 he was an extraordinary professor at the University of Groningen and from 1954 full professor at the University of Leiden.
Henk Beyen married at a rather advanced age, in 1953, Maria J.R. (Mies) Romijn. He died in 1965.
Karel Herman Beyen, Deputy Minister of Economic Affairs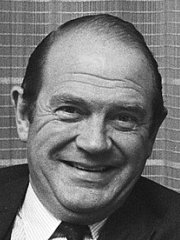 Karel Herman Beyen (8.3), who was called

Has

by his relatives and friends, was a son of the former minister. He was born in 1923 in The Hague and studied law in Amsterdam and Washington. Afterwards he worked at the Dutch Embassy in Washington, at the NATO Secretariat in Paris and at several banks. From 1970 to 1978 he was a member of the Board of the AMRO Bank (later merged with ABN to form ABN AMRO), and head of the foreign trade department of that bank.
In the years 1978-1981 Has Beyen was Deputy Minister of Economic Affairs, responsible for foreign trade and export promotion. Afterwards he was a member of the board of commissioners of many companies.
In 1954 Has Beyen married Sally Brunet, who was born in New York. They had one son, who died at a relatively young age. After the passing of his first wife Has Beyen married Willemijn Brom in 1979. He died in 2002.