Karel Hubertus Beijen (5.17) was mentioned on the page The Nieuwkapelle family in the 19th century. He married Jannetje Stenvers in 1863. Four children were born of this marriage, two of whom died young. Jannetje died in 1876.

Seven years later, in 1883, Karel married Antoinette Wikinga Ramaer. She was born in 1855 in Oldenzaal. Antoinette was a widow. In November 1876 she had married Ansko van Pesch, an employee of the nationaal telegraph service. Van Pesch died in June 1877, still only 32 years old. Five months later a daughter was born. The girl was given the name Antoinette Ansko Riekske Maria Wikinga van Pesch.

From the second marriage of Karel and Antoinette five more children were born. The family lived in Utrecht, among other places at the Oudkerkhof, the Oudegracht and the Biltstraat. The aforementioned Antoinette van Pesch died in 1901, aged 23 and unmarried. The five children from the second marriage are listed below.
Emil K.L.A. Beijen, electrical engineer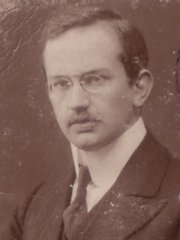 Emil Karel Lodewijk Alexander Beijen (6.6) was the eldest child of Karel Beijen and Antoinette Ramaer. He was born in Utrecht in 1884.
Emil Beijen became an electrical engineer after studying in Ilmenau (Thüringen) in Germany. In 1912 he married Margaretha Katharina Christina van der Borgh in Wettingen, Switzerland. She was born in Onstwedde, Groningen. He had met her in Elburg when he was employed by a railway company there. Later he moved with his wife to Altona near Hamburg, where he worked on the electrification of the city tram. In 1915 and 1917 their two eldest daughters were born there. In Altona Beijen wrote a book about the purchase, installation and use of electrical appliances for domestic use. The book gives advice on the practical application of electricity in the home.
In 1917 or 1918 he returned to the Netherlands. He started working as a "cable engineer" at the municipal electricity company in Delft.

In January 1920, when he was only 35 years old, Emil Beijen died of tuberculosis after a short illness. His widow Margaretha van der Borgh was left with three small daughters. Because her husband had not yet been appointed to a permanent position for administrative reasons, the municipality of Delft refused to grant her a pension. An objection to that did not help.

A few months after the death of her husband, the widow Beijen moved with her children to Apeldoorn. She could live there with her mother. She supported part of her livelihood by writing poems, stories and serials that were published in various magazines. She also wrote some children's books: Three animal fables and Three Eastern Fairytales. It was difficult to make a living from writing, but she was supported financially by a number of relatives, including the later Minister of Foreign Affairs Johan Willem Beijen.

The youngest daughter of Emil Beijen, Margaretha H.S. (Greet) (7.6), died in a German concentration camp during World War II. A separate page is dedicated to her: Greet Beijen, killed in a concentration camp.
Louis H.J. Beijen, emigrated to America
Louis Henri Jacques Beijen (6.7) was the second son from the second marriage of Karel Hubertus. He was born in Utrecht in 1885. From 1902 to 1904 he attended a boarding school in Voorschoten. After that he lived in Vlissingen. According to the population register of Vliddingen, he worked there as an office clerk and left for the Dutch East Indies in 1909.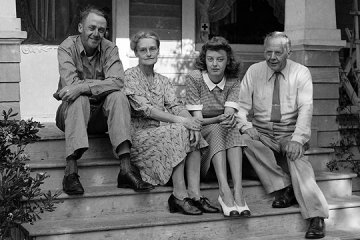 Not long after, Louis must have emigrated to America. He worked there for Shell, among others.
In 1913 he married Florence Isabel Cameron in Burlington (New Jersey). She was born in 1884 in New York. They had three children, the middle one of whom died young.
Louis is on the right in the photo. Next to him, from right to left, are his daughter Kareline (7.9), his wife and his son Louis Jr. (7.7)

Florence Beijen Cameron died in 1955 in New Jersey, Louis Beijen Sr. in 1973 in Florida. He retained Dutch nationality until the end of his life.
Some of his descendants in America still have the surname Beijen.

Henriette J. Beijen, member of a monastic order
Henriette Jacqueline Beijen (6.8) was born in 1886 in Utrecht. Although her parents were not Catholic, she joined the Congregation of the Sisters of Charity of Jesus and Mary. Like many members of that monastic order, she worked as a nurse. She died in 1971 at the age of 84 in Venray, one of the locations of the Congregation.
Theodora W. Beijen, moved to the Dutch East Indies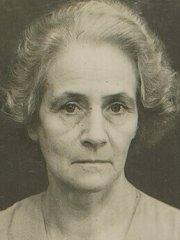 Theodora Wilhelmina Beijen (6.9) was born in 1888 in Utrecht. In December 1910 she married the almost graduated medical student Pieter Wilhelm van Rees, who was born in 1886. Three months later she left with him for the Dutch East Indies, where Van Rees became a military doctor. The couple lived, among other places, in Pladju on Sumatra, in Balikpapan on Borneo and in Weltevreden near Batavia. As far as is known, they had two sons.
Divorce was granted in 1924 at Theodora's request. Shortly afterwards she married in Batavia Willem Matthijs Ouwerkerk, who was born in 1885. With him she had one more son. Ouwerkerk was a lawyer and held many positions for the Dutch government. He was mayor of Padang from 1928 to 1940.
In 1951, Theodora and her husband applied from Indonesia for a Dutch passport in order to return to the Netherlands. The photo shown here was attached to her application.
Theodora Beijen died in 1963 in Muralto in Switzerland, her husband died in 1968 in the Netherlands.
Sophia C.T. Beijen, singer
Sophia Charlotte Theresia Beijen (6.10) was born in 1892 in Utrecht. She received a musical education. Sophia worked as a singing teacher and performed as a soprano.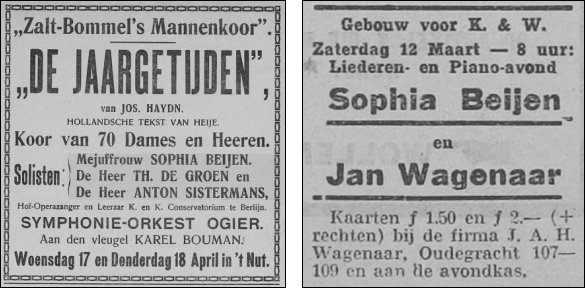 Above announcements of performances in Dutch newspapers: in 1918 in Zaltbommel and in 1921 in Utrecht.
In 1934 Sophia married the 58-year-old widower Johan Christiaan de Wit. He died in 1956, she in 1974.