Frederik (Freek) Beijen and Jannigje Brand
Frederik Beijen (12.18) was the youngest son of Gerrit Beijen, who is mentioned at the end of the page Maarten Beijen (1774-1834) and his children. He was born 1n June 1851 on his parents' farm in Bodegraven. In everyday life he was probably called Freek (pronounced Freak). In 1873 he moved to Kamerik. There he married Jannigje Brand 1n April 1876. She was born in Kamerik in June 1853.
Immediately after their marriage, Freek and Jannigje moved to Bodegraven. They had one child there. After two years, in 1878, they moved to Linschoten. Nine more children were born there, two of whom died young. In the Linschoten birth certificates of his children, Freek was referred to as a shopkeeper or merchant. It is not known what kind of shop he had.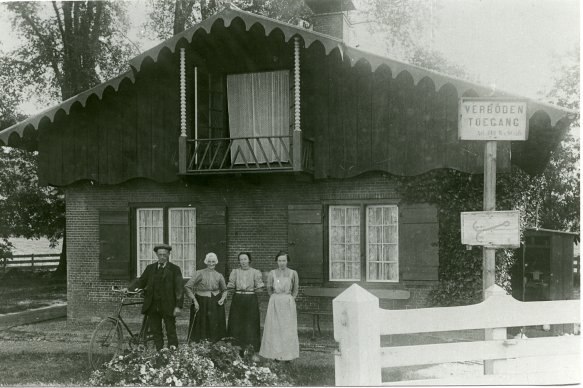 In 1903 the family moved to Leiderdorp and in 1905 to Zoeterwoude. Freek was a farm worker there. The house where the family lived in Zoeterwoude was on a little canal called Roomburgerwatering between Zoeterwoude and Leiden near the former bridge Lammebrug. The house was known as the Hunter's House; according to stories it had belonged to a demolished castle. It is possible that Freek was also the bridge keeper of the bridge. The photo above shows Jannigje with her son Gerrit and her daughters Jannigje and Neeltje.
Between 1910 and 1919, the province of South Holland had the much wider and deeper Rhine-Schie Canal dug at approximately the site of the Roomburgerwatering, and a larger Lammebrug was built.
Jannigje Brand died in 1922, Freek Beijen in 1931.
The children of Freek and Jannigje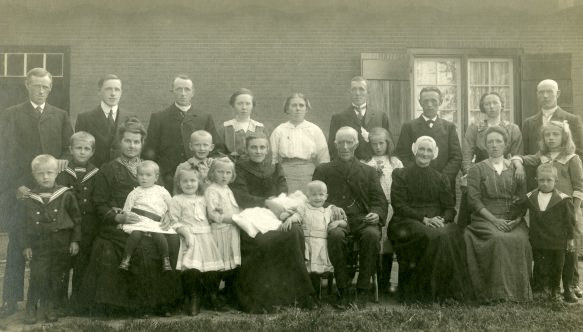 The picture above shows Frederik Beijen and his wife Jannigje Brand with their family. It was most likely made at the occasion of their fortieth wedding anniversary in 1916. All eight adult children were present. The bridal couple is seated right of center. At the back are from left to right their sons Gerard (13.47), Cornelis (13.49) and Anthonij (13.45), their daughter Neeltje (13.50), Mijntje Nap (a sister of Trijntje Nap who is mentioned below), their sons Maarten (13.48) and Gerrit (13.43), their daughter Jannigje (13.52) and Marinus Middelman (the husband of Dirkje). The three younger women who are sitting on the middle row are from left to right Maartje van Os (the wife of Gerard), Trijntje Nap (the wife of Anthonij) and their daughter Dirkje (13.46). Between them are the grandchildren.
Two of the five sons, Anthonij and Gerard, had descendants named Beijen. They are discussed next.
Anthonij (Toon) Beijen
Anthonij Beijen (13.45), who was usually called Toon or Anton, was born in 1879 in Linschoten. He left for Harmelen in 1903, where he became a coachman for the wealthy Viveen family. In 1907 Toon married Trijntje Nap, who was born in 1882 in Woerden. They had seven children in Harmelen. In 1920 the family moved to the hamlet of Breeveld on the Harmelen side of the municipality of Woerden. There they had another child and one of the other children died.
In 1924 Toon started his own business as a milk trader in Kamerik. The youngest daughter was born there in 1926.

The photo below shows Toon and Trijntje with six of their children. From left to right: Leentje C.J. (14.62), Wijntje (14.61), Dirkje (14.60), Anthonie (14.58), Jannigje A. (14.56) and Alida W. (14.59).
The last named daughter, Ali, died in December 1935, only 18 years old. The photo must have been taken shortly before her death.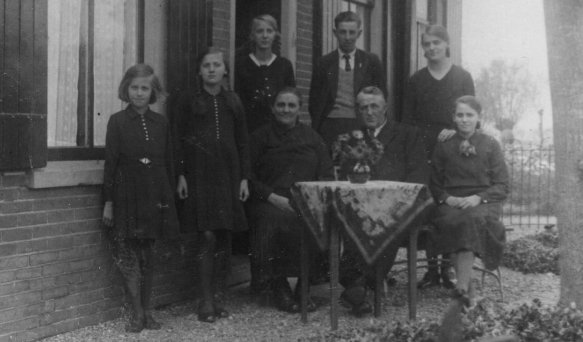 In 1937 Toon bought a farm in the middle of the village of Kamerik, with meadows behind it. A few years later, part of the land was bought by the municipality for the implementation of an development plan. The dairy was later taken over by Toon's son-in-law Arie van Stavel, Dirkje's husband.
Trijntje Beijen-Nap died in 1947, Toon Beijen in 1955.
The eldest son, Frederik Gerrit (14.54) (1908-1984) lived for years in various places in South America as an employee of an oil company. He married Liselotte Hennig in Rio de Janeiro in 1946. They had two sons.
The second son, Anthonie (14.58) (1916-1990) married in 1951 in Gouda Elisabeth F.H. Hoogerwaard. They had three daughters. In the 1950s the family lived in Canada for several years. Their middle daughter was born there. Later they came back to the Netherlands.
Gerard Beijen
Gerard Beijen (13.47) was born in 1883 in Linschoten. In July 1904, when he was 20 years old and still living with his parents in Leiderdorp, he married 19-year-old Maartje van Os, who was born in Leiden.

In November 1904 their first son, Frederik, was born. Gerard and Maartje then lived with Maartje's mother, who was also called Maartje van Os and lived in Zoeterwoude. More than seven months later, in July 1905, little Frederik died. At that time he was not with his parents in Zoeterwoude, but with his uncle Toon Beijen and his wife in Harmelen. The reason for this is not clear; maybe his mother couldn't take good care of him at the time.

After that Gerard and Maartje found a house for themselves in Voorschoten. In 1906 and 1909 two children were born there. After that they lived in Sassenheim. There they had three children in the years 1911-1917. Around 1918 the family moved to Noordwijk, where five more children were born in the years 1920-1928.
Gerard mainly worked as a farm labourer. In addition, he also worked land near his own house and kept animals.

Above are two pictures of Gerard and Maartje; at the right with a grandchild.
Gerard Beijen died in 1945 in Noordwijk, Maartje Beijen van Os in 1966.