Maarten Beijen (Gerrit's son)
Maarten Beijen (12.18) was the eldest son of Gerrit Beijen, who was discussed at the end of the previous page. He was born in 1842 in Bodegraven. In 1873 he married Adriana Kerkhoven, who was born in Bodegraven as well. Maarten and Adriana had ten children, three of whom died at a young age.

Maarten continued the farming activities on the farm that had belonged to his father. In order to be able to divide the inheritance among the children, the farm had been sold to an investor in 1874.
Maarten worked as a farmer until 1901. In that year he left the farm and moved with his family to Leiden, where he was a milkman.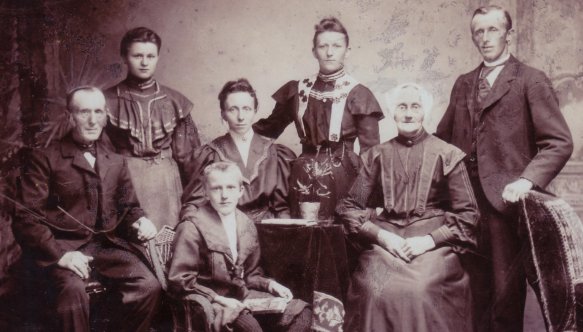 The photo above was probably made in Leiden, in or shortly after 1905. Besides Maarten and Adriana five of their children can be seen: at the back row from left to right: Margo (13.37), who was married to Rijk ten Brummeler, Dirkje (13.33), who did not marry, Maria (13.34), who was married to Willem van Dolder, and Gerrit (13.35), who was married to Cornelia Touw. In the front the youngest son Maarten Beijen Junior (13.42) is sitting.
In 1916 Maarten stopped the milk trade. Maarten and Adriana moved in with their daughter Magcheltje (Marie) Beijen (13.41) and their son-in-law Johannes van Nood who had a milk business elsewhere in Leiden. In the photo below, Van Nood is standing with his milk cart in front of his shop.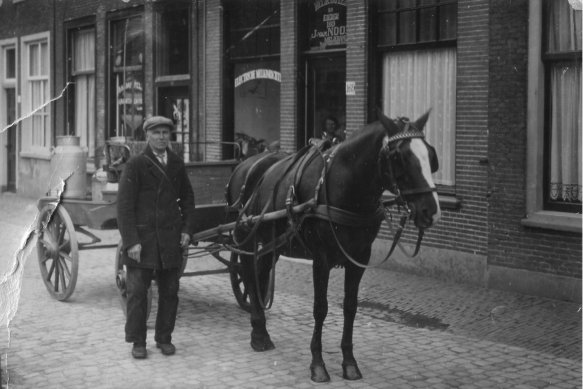 In 1917 Maarten and Adriana moved to the village of Aarlanderveen, east of Leiden. They went there to live with their daughter Maria and her husband Willem van Dolder. Maarten died there in October 1917, Adriana in 1922.
Maarten Beijen Junior (1893-1941)
Maarten Beijen (13.42), the youngest son of the aforementioned Maarten, was born in Bodegraven in 1893. He moved with his parents to Leiden in 1901. In 1913 he married there Jacoba Johanna van der Kamp. Maarten worked as a waiter at the time. Below pictures of Maarten and Jacoba.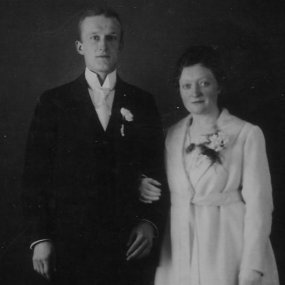 Maarten and Jacoba's first child died in 1914 as a baby. Jacoba died in 1916, a month after their second child was born.

Maarten moved to The Hague, where he became a tram driver. He married there in 1919 Jansje Drenth. On the right the wedding photo of Maarten and Jansje.
Four more children were born from this marriage.

Maarten Beijen died in 1941 in The Hague, Jansje Beijen Drenth in 1965 in Voorburg.

Below a photo with a tram and employees of the tram company. Maarten Beijen is the second from the right.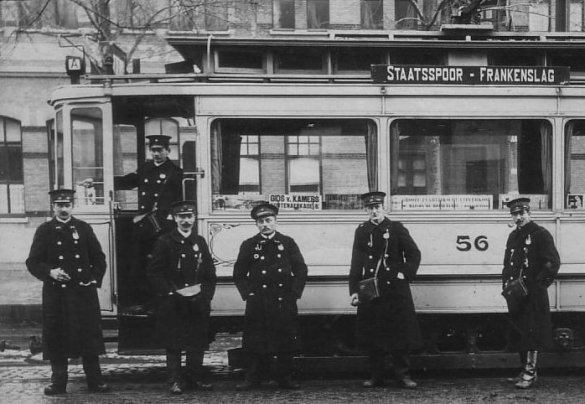 Jan Beijen, pilot in the Netherlands and New Zealand
The youngest son of Maarten Beijen and Jansje Drenth, Jan Beijen (14.53), was born in 1932 in The Hague. Around 1951 he became a pilot in the Royal Netherlands Air Force.

Saved by his ejection seat

In November 1953, Jan Beijen had taken off with his Thunderjet jet fighter together with eleven others for a training flight from Welschap airbase near Eindhoven. When a dense fog suddenly appeared, the pilots had to abort their flight. Ten of the twelve were able to ground their aircraft in the Netherlands or Germany, but Jan Beijen and another pilot had problems because their fuel was running out. They had to leave their aircraft with their ejection seat. The newspaper De Gelderlander of November 19, 1953 wrote about Jan Beijen:
One of the fighter jets crashed near Wanroy shortly after three o'clock. As a result of the heavy ground fog, very large stagnation had arisen at Eindhoven airbase and as a result this aircraft also had to postpone a landing. The aircraft could not go directly to Volkel airbase either. In the meantime, the Thunderjet had run out of fuel and the pilot, sergeant pilot Beijen from The Hague, saw only one way out to save his life: shoot himself out of the plane with the ejection seat and reach the ground with the parachute. The pilot left the aircraft in this way above the Wanroyse Peel. He ended up safely on a pasture and was almost unharmed. He received only a minor injury to the knee, where his trouser leg was torn. Mr. A.J. Ras, the headmaster of the school in Wanroy Peel, took care of the pilot, who was treated to tea and cigarettes at the home of the Ras family and soon got over his nerves again. With Mr. Ras's bicycle he went to collect the parachute that he had left behind. After telephone contact with Eindhoven and Volkel had taken place via the town hall in Wanroy, Mr. Beijen was picked up about an hour later in a jeep of the Royal Air Force.


The plane flew a bit further, hit the ground, bounced upward, and burst into hundreds of pieces. There were no personal accidents.
A brave rescue attempt

On March 1, 1955, the start of a Thunderjet fighter jet from Welschap airbase failed. The aircraft did not lift off the ground and drove straight through the fence and over a road into the Beatrix Canal. Jan Beijen and four others saw it happen and ran to the canal. To try to save the pilot, they jumped into the freezing cold water covered with ice floes. Unfortunately the pilot had already passed away.

As an expression of gratitude for his courage, Jan Beijen received the royal "Medal of honor for charitable assistance". The medal and the accompanying diploma, signed on behalf of Queen Juliana, are still present with Jan Beijen's family in New Zealand.
Jan Beijen emigrated to New Zealand around 1960. He worked there as a pilot at Rudnick Helicopters. In 1962 he married Marjorie Blackwood in Christchurch. She was born there in 1936. They had five children.
Below on the left a photo of Jan that was taken in The Hague and on the right a photo from New Zealand.


In 1969 Jan made a helicopter flight with a co-pilot over the Karangarua Valley on the west coast of the South Island. The helicopter crashed and both were killed. Jan and Marjorie's youngest child was only four months old at the time.
Marjorie passed away in Christchurch in 2017. All of Jan and Marjorie's descendants live in New Zealand.