Gijsbert Beijen, innkeeper and horse driver
Gijsbert Beijen (8.1) was the eldest son of Dirck Beijen (7.4) from Lexmond who was mentioned at the bottom of the previous page. The list at the right could help to throw some light on the somewhat confusing series of Dircks and Gijsberts: seven generations Dirck - Gijsbert - Dirck, from Dirck Beijen (O 3.1) of the oldest generations until his great-great-great-great-grandson Dirk (G 9.1) of the Gijsbert branch.

Because the name Gijsbert is used for the branch as a whole, the name of this subbranch was taken from a first name that was given to many of its members: Arie.

Gijsbert was born in Lexmond in 1713. In 1738 he married Hilligje Speltenburg. After their wedding Gijsbert and Hilligje lived in Lexmond, Lopik, Benschop and other places.

In 1754 they rented the farm De Witboom ('The White Tree') between the towns of Hagestein and Vianen. Alongside the signature Gijsbert put on the lease is shown. Gijsbert used De Witboom as an inn.

In 1767 Gijsbert bought the inn De Roode Leeuw ('The Red Lion'), just outside the Land Gate of Vianen, at the beginning of the old canal between Vianen and Gorinchem. A city map drawn by Jacob van Deventer in the sixteenth century did not yet show the inn. The place where it was built in later years is indicated with a red dot.
The location on an important road yielded customers for the inn, but also for another occupation of Gijsbert: he was a horse driver as well. We can assume that he transported both travellers and goods with his horse carts.

Gijsbert and Hilligje had ten children, one of whom died in infancy. The children are mentioned on the overview of the members of the Gijsbert branch at the numbers 9.1 through 9.10.
Gijsbert died in 1784; Hilligje in 1800.
Three of their children are discussed below.
Dirk Beijen: not very successful
Dirk Beijen (9.1), the first son of Gijsbert and Hilligje, was born in 1738. For a number of years he was a horse driver, just like his father, but he was not very successful. In 1783 he sold his horses and carts to his father.
Dirk was married to Hendrica Magdalena van Daatselaar. Around 1795 they moved with their children from Vianen to the city of Utrecht. Maybe there was a connection with the fact that Dirk's relationship with his mother was not too good.
Dirk died in 1801. The last of his descendants who had the name Beijen died in the middle of the nineteenth century.
Arie Beijen and his descendants
After Gijsbert's death, Arie Beijen (9.9), the second son of Gijsbert and Hilligje who reached adulthood, took over the drivers company and the inn. Gradually the businesses worsened, probably as a consequence of the economic problems in the time of Napoleon.
In February 1813 Arie and his wife Cornelia van Gelder died within a few days of each other. After their death their debts turned out to exceed their belongings. De Roode Leeuw was sold by auction in June 1813.
On the photo (that was sent by Piet van Iperen from Hagestein) the new owner of De Roode Leeuw is standing in front of the stable doors. The church of Vianen can be seen on the background. The stable was pulled down later, but the house in which Gijsbert and Arie Beijen lived is still there.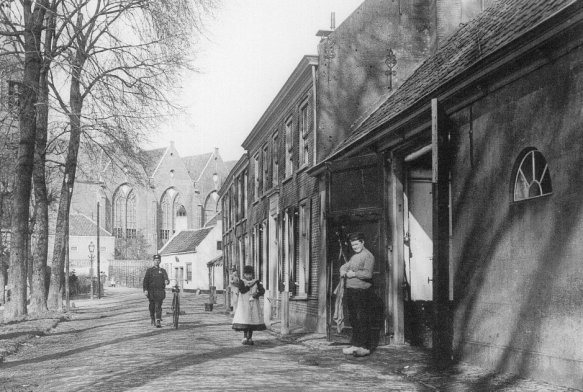 In other aspects Arie and his wife were not fortunate either: they had twenty children, but in 1813 only eight of them were alive, among which were three sons. Since the sons died childless in later years, it was to be expected that this part of the branch would become extinct in the Beijen line.
In 1847 however Arie's youngest daughter Nelligje (10.27),who was sometimes called Pieternella as well, gave birth to a son, Arie (11.3). Because Arie had no official father, his family name was Beijen.
Nelligje brought up her son alone. In 1864, when Arie was sixteen years old, Nelligje died. Arie was a painter's apprentice and moved in with his employer.
In 1871 Arie married Antje van Ooij. They had six children. After the passing of Antje, Arie married Maria van den Bosch. From this second marriage three other children were born. Arie, who remained a painter until his death, died in 1908 in Vianen.
Arie had three sons who reached adulthood: Arie (12.1), Pieter (12.6) and Frans Nicolaas (12.8). All three were painters. Arie Junior, who lived in Vianen for his whole life, had numerous offspring. Most of his present descendants live in the Utrecht area.
Willem Beijen and his niece
Willem Beijen (9.10) was born in 1761 in Vianen as the youngest son of Gijsbert Beijen and Hilligje Speltenburg. He worked for some years as a master carpenter in Rotterdam. After the death of his wife Neeltje Knegtmans he returned to Vianen around 1800. Supposedly he had a relationship with his niece Hilligje Molenaar, a daughter of his elder sister Ariaantje (9.2). Hilligje had a number of "illegitimate" children in Utrecht between 1802 and 1809. The baptismal records report that Willem was the father of the last two children.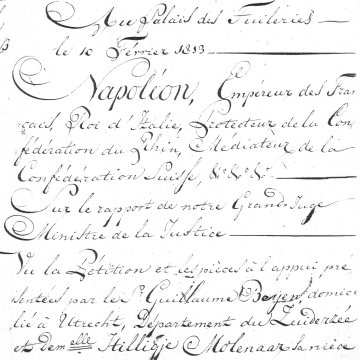 In 1812, Willem and Hilligje wanted to marry. However, because of the close family relationship this was only permitted with special consent of the head of state. Since in that time the Netherlands were annexed to the French empire, that consent had to be obtained from the Emperor Napoleon. After a number of procedures the consent was given. Willem and Hilligje married on March 31, 1813 in Utrecht. At the wedding, four daughters of Hilligje were recognized as their children. As a consequence, they had the name Beijen. After the wedding one more daughter and one son were born. The son, Willem Arie Beijen (10.35), was a carpenter in Utrecht. His last descendant who had the name Beijen died in 2000.