In past centuries several groups in the Netherlands had the surname Beijen (Beyen) although they were (as far as we know) not related to one of the five families that were mentioned before. In the family book these groups are designated as "loose ends": their origin is unknown and they have become extinct in the Beijen line since.
Here are some examples of those loose ends.
Beijens on the South Holland islands
In former centuries the

first name

Beije or Beijen was rather common in the southern part of the present province of South Holland, south of Rotterdam, known as the South Holland islands. Consequently the patronymicum Beijesz or Beijensz (son of Beije or Beijen) was also rather customary. In the 15th century there was a prominent family living in the towns of Poortugaal and Pernis: Beijen Beijensz, his son Doen Beijensz, his grandson Beijen Doensz and his great-grandson Doen Beijensz Junior. Members of this family left 'memory lands' in the Poortugaal area. The users of that parcels had the obligation to pay for the costs of the annual Memory Masses for the founders. Many Dutch genealogists have found themselves to be offspring of the Doen Beijensz family. In all cases the relationship with this family is laid through female ancestors. Consequently there seems to be no direct connection with the present family name Beijen.
In later centuries Beijensz as a patronymicum was often used on the South Holland islands, particularly in the 17th century in the town of Spijkenisse. It was also written as Beijens, Beijen or Beije. Beijen was not used as a family name yet: if Gerrit Beijen(s) had a son Jan, Jan was called Jan Gerrits instead of Jan Beijen.
The organ player Petrus Beijen and his family
In 1750 a certain Hendrik Beijen, who was born near the German city of Duisburg, married Helena Verstegen in the Dutch city of 's-Hertogenbosch. Their first son Petrus Beijen was a gifted musician. In 1769, when he was only 18 years, the city council of Nijmegen appointed him organ player of the church named Broederenkerk and deputy city carillon player.
In 1773 Petrus Beijen was given the honourable commission to select an appropriate maker for the new organ of the Sint Stevenskerk, the main church of Nijmegen. He advised to commission the organ builder Ludwig König from Cologne (Germany). König builded a magnificent organ. A picture of that organ, that still exists, is shown on the right (source; Wikipedia).
In 1780 Petrus Beijen was appointed chief organ player of the Sint Stevenskerk. He died in 1790, when he was only 39 years old.

When Petrus died, he left one child, his eleven years old son, Hendrik Johannes. Because Hendrik's mother had passed away before, Hendrik was received in the orphanage. After reaching adult age, he became a member of the Brothers Congregation (the Hernhutters) in Zeist. In 1811 he died, only 31 years old. Thanks to a description of his life that has been kept in the Congregation's archives, we know rather many details about him.
Hendrik Johannes Beijen was the last representative of this little family.
Jan Beijen, Maria Prinse and their offspring
In 1799 a certain Maria Prinse, who lived in Nijmegen and had been left by her husband Willem de Lange some years before, had a son. At the christening the child was named Henricus. Because Maria had declared that the father was called Jan Beijen, the boy was known as Henricus Beijen during his life.
Nothing is known for certain about Jan Beijen's background. He probably lived in Nijmegen for only a short time, maybe as a soldier. We have to assume that he had left already when Henricus was born. Therefore Maria was on her own in caring for Henricus and her two elder children (that were called De Lange).
In November 1799 Maria was caught shoplifting. She confessed that she had stolen before. In other cases she would have been sentenced to jail or worse, but the fact that she had stolen for the maintenance of her children was seen as a mitigating circumstance by the Nijmegen administration. Therefore she was "only" punished by lifelong banishment from Nijmegen. Maria went to the German city of Wesel; her children stayed in Nijmegen with Maria's mother. Despite her banishment, Maria was caught returning to Nijmegen twice in future years. One of the punishments was a degrading exhibition on the Nijmegen scaffold. In 1809 King Louis Napoleon allowed her to return to Nijmegen.
In 1830 her son Henricus Beijen married in the city of Amersfoort. He was a soldier and was quartered in that city. Henricus had four daughters. The last of his daughters died in 1923. At that moment this loose end came to an end.
Other loose ends
In the past there were also other loose ends Beijen, for example:
in the seventeenth century in the towns of Zutphen and Lochem and surroundings;
in the second half of the seventeenth century and the first half of the eighteenth century in the town of 's-Gravenzande and other towns in the Westland area (where the surname was written as

Van

Beijen);
in the seventeenth and eighteenth century in Amsterdam.
A former loose end: Laurens Beijen from Wilnis
Occasionally a loose end can be tied. Recently I found proof about the relationship between Laurens Beijen, who lived in the eighteenth century, and the IJsselstein family. It is a coincidence that his first and last name were the same as mine. For many years it was unknown where and when he was born and who were his parents. In September I discovered at last that Laurens was born in IJsselstein in 1694. His actual name was Laurens Both, but for unknown reasons he named himself Beijen. That surname was not unfamiliar to him: his paternal grandmother was Jannigchen Beijen, a daughter of the IJsselstein alderman and burgomaster Gijsbert Beijen (generation 4 of the oldest generations). Jannigchen had married Teunis Both. Sometimes Laurens's father, Gijsbert Both, was wrongly named Beijen as well.

In 1731 Laurens was appointed usher of the villages of Wilnis and Westveen. In that position he assisted Bailiff and Aldermen in judicial and administrative procedures, acted as town crier and collected local taxes. In 1732 Laurens, who was a widower, married the widow of the previous usher. For a number of years he filled his office to the satisfaction of the local administrators. In 1745 however, after the passing of his second wife, Laurens married a widow from another town, about 15 kilometers from Wilnis. He lived with her, which was not advantageous for his office as the usher of Wilnis and Westveen.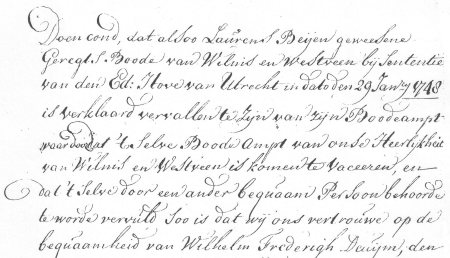 In 1746 the Lord of these villages asked the Provincial Court of Utrecht to dismiss Laurens Beijen because of neglect of duty. Initially the Court granted Laurens a last chance, but in 1748 he was finally dismissed.
Around that time Laurens's third wife must have died. In 1750 Laurens married again a widow, his fourth wedding. This wedding took place in Steenwijk in the province of Overijssel. Laurens lived there for the rest of his life. He died in Steenwijk in 1764.