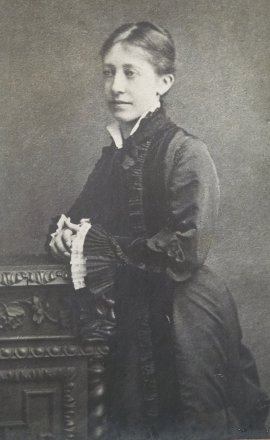 Jacoba Cornelia Beijen (11.10) was the youngest daughter of Johan Franco (IV) Beijen (10.2), the medical doctor in Barneveld who was mentioned on the previous page. She was born in 1844 and was generally known as Cor. In many official documents she was wrongly named as Cornelia Jacoba instead of Jacoba Cornelia Beijen. She signed documents as C.J. Beijen.

Cor was known as very independent and adventurous. She probably left her parental home in Barneveld at a rather young age. Apparently she was a governess for the children of well-to-do families in other countries. A picture of her (by courtesy of her great-great-grandson Leslie Leijenhorst) is shown to the right.
Two children
When Cor was 31 years old, she gave birth to a son. Officially the father of the child was not known. There are, however, strong indications that Pieter Hendrik van de Wall Repelaer, a member of a noble family, was the father. He was born in 1854 in the city of Dordrecht, and so he was ten years younger than Cor was.
Obviously the family preferred a discrete solution for the situation. The child was born on April 20, 1876 in the house of a willing labourer in Rijswijk, a small village in the municipality of Maurik in the province of Gelderland. Probably this place, where nobody knew Cor, was arranged by Cornelis Pieter Silvius, the husband of Cor's eldest sister. He was a family doctor in Zoelmond, a town near Rijswijk, and was present at the delivery. The next day he registered the birth of the boy, Pieter Hendrik (12.7), in the town hall of Maurik.
We do not know where Cor and the little Pieter did live in the next years.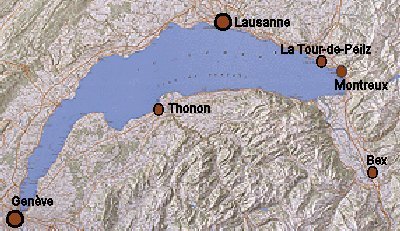 Five years later, on November 25, 1881, Cor gave birth to another child, a girl. This time the birth took place in the Swiss town of La Tour-de-Peilz on Lake Geneva. The girl was given the names Katharine Adelaïde Lindsay (12.8). According to what was known in the family her father was a Scot from the Lindsay clan. Cor had met him when she was in Scotland as a teacher for children of a Scottish family. One or two days before the wedding of Lindsay en Cor was to be celebrated, he had a fatal fall from his horse. The girl owed her third name to him.
Afterwards Cor lived together with her two children near Lake Geneva, in Bex, Lausanne and maybe other towns. She lived in Lausanne from 1894 to 1902. From 1897 she was the owner of a guest house, Villa Odette.
Pieter and Mercienne
According to the Lausanne register of the inhabitants Pieter was a bank employee. Most probably he returned in 1902 to the Netherlands together with his mother and sister. In July 1902 he went off to the Dutch East Indies where he worked as a private teacher of French. We do not know how many years he stayed there.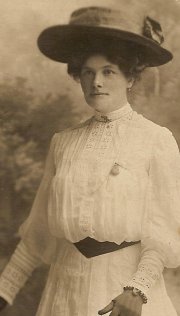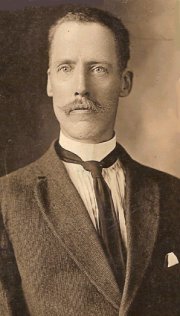 In 1912 Pieter married in Toronto, Canada, Mercienne Elise van der Duijn. She was born in 1878 in Thonon on the French shore of Lake Geneva. Maybe they had met each other in the Lausanne area.
The pictures to the right are by courtesy of their great-granddaughter Kristine Schamp from Parker (Colorado).
In 1921 Pieter and Mercienne moved from Canada to Denver (CO, USA). They had five children, three of whom died in infancy, and had an adopted son as well. Offspring of them still live in the Denver area.
Pieter died in 1945 and Mercienne in 1969, both in Denver.
Back to the Netherlands
Cor and her daughter, who was generally known as Adé, moved in 1902 from Lausanne to the Dutch city of Utrecht. In the years 1903-1904 Cor went back for a year to Switzerland (Montreux); afterwards she lived in the Netherlands.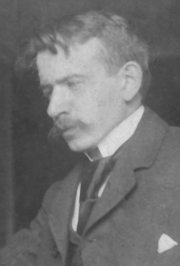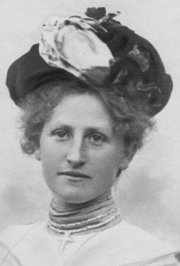 In 1904 Adé married in Utrecht Diederik Theodorus Keck, a Dutch Reformed clergyman who had just finished his studies. Before he had also studied French, and Adé had met him in Switzerland when he was living there as a student for some time. The pictures to the right are by courtesy of their great-grandson Leslie Leijenhorst.
After the wedding the young couple moved to the village of Est in the province of Gelderland, the first parish assignment of Reverend Keck. Afterwards many more parishes followed.
Diederik Keck died in 1945, 66 years old. Adé died in 1982 at the high age of 100 years and nearly nine months.
Cor Beijen lived with her daughter and son-in-law in the various towns where Keck worked as a clergyman. It must have been a particular combination: the mother-in-law was very liberal and modern, the son-in-law was strictly religious and orthodox.
Cor died in 1926 in Garderen, very close to Barneveld where she was born in 1844.