In the past, many Dutch professional soldiers served in the Dutch East Indies, the present Indonesia. Among them were two sons of the Barneveld doctor Johan Franco IV (10.2).
Pieter Wilhelm Adriaan Beijen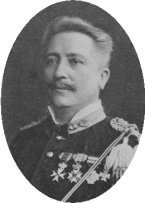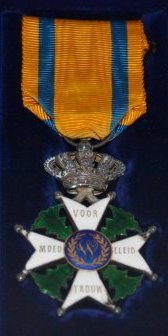 Pieter Wilhelm Adriaan Beijen (11.4) was born in Barneveld in 1835. He was educated at the government school for military physicians, and in 1856 he was appointed medical officer in the Dutch East Indies. He served on the islands of Celebes (Sulawesi) and Ambon.
In 1865 and 1866 he was present at battles on the island of Ceram (Seram). According to reports he demonstrated great courage by helping and bandaging wounded soldiers in a calm way under heavy fire from the opponents. This was cause to award him the Military William Order, the highest military order in the Netherlands.
Pieter Beijen rose to the rank of colonel of the Medical Service Corps. After his retirement he returned to the Netherlands. In 1886 he settled with his wife, Carolina Strengnaerts, in The Hague. They had no children.
Pieter died in 1909, Carolina in 1918.
After Pieter's death, the medal of the Military William Order was saved well by family members. A photo of the medal is shown on the right.
Hendrik Rudolph Beijen
Hendrik Rudolph Beijen (11.9), who was born in 1843, was a younger brother of Pieter. He went to the Indies in 1863 as a lieutenant of the Infantry. He served in Southern Sumatra, Java and the Moluccas.
In 1873 and 1874 Hendrik Rudolph was adjutant to the commandant of the Second Infantry Brigade in an expedition against the rebellions in Aceh (Atjeh). There he showed great courage during combats by reconnaissance and the transmission of orders. In April 1874 he was severely wounded. As an acknowledgement of his courage he was awarded the Military William Order as well. In 1875 he was promoted to captain. Later he became military commandant of the Moluccan island of Ternate.
In 1883, Hendrik Rudolph was honorably discharged on his own request because of physical incapacity: his right lower leg had to be cut off as a result of injuries that he had received in Aceh. Afterwards he had a wooden leg. After his retirement he did not return to the Netherlands; he lived in Sukabumi on Western Java until his death.

In 1884, shortly after his retirement, Hendrik Rudolph married Anna Johanna Regina Stops. She was the mother of the below mentioned Piet Beijen who was acknowledged by Hendrik Rudolph as his son. Anna died in 1911. In 1913 Hendrik married Maria Constantia Vollprecht.

As far as we know Hendrik Rudolph had four children. The name of the mother of some of these children is not known with certainty.

It is difficult to gain insight into the family relationships in the former Dutch East Indies. Registers of Births, Deaths and Marriages were kept only for the "European" residents and for those who were put on a par with them. Moreover, many of these registers have been got lost. Research is further complicated because many children were born from non-registered relationships between Europeans and native women.

Nearly all present members of the Johan Franco branch descend from Hendrik Rudolph Beijen. Below his four children and some of their descendants are discussed.
Piet Beijen
As far as we know, Piet Beijen (12.3) was the first child of Hendrik Rudolph. He was the son of the above mentioned Anna Stops and was born in 1870 on the island of Ceram.
Piet Beijen was the administrator of a coffee and quinine company near Sumedang on Western Java. In 1898 he married Jacoba Helena van Wijhe, who was a school teacher. They had no children together. Piet died in 1930 in Sukabumi.

Before he was married Piet acknowledged two children of a native woman: Hendrik and Pauline. They lived with Piet and his wife.

Hendrik Beijen (13.1), the son of Piet, was born in 1895 in Krawang on Western Java. At first he worked as a ship's engineer at the Navy and later he was a sergeant of the Royal Dutch East Indies Army (KNIL). In 1920 he married Gertrude Hendrika Sophia Paulus. They had three children and lived in Cirebon (formerly called Cheribon) on Western Java. For some years he was there a member of the municipal council as a representative of an association of people of Indo-Dutch descent.
Hendrik died in 1945 in Pakanbaru on the island of Sumatra due to hardships in the war. More information about his imprisonment in the war is given on the page Victims of the Japanese occupation. After 1945 some of his descendants settled in the Netherlands.

Pauline Beijen (13.2) married Andries Sissingh in 1916. They had three children as well. Pauline died in 1946 in Batavia.
Johanna Wilhelmina Hendrika Beijen
Johanna Wilhelmina Hendrika Beijen (12.4) was born in 1871. As far as we know, she was a daughter of a native woman Mina who was acknowledged by Hendrik Rudolph.
In 1936 the genealogical magazine De Indische Navorscher (The East Indian Investigator) suggested something else: Johanna should have been a girl that was kidnapped, together with other children, by pirates. After their release various families on the island of Ternate should have taken care of the children. Pieter Wilhelm Adriaan Beijen, Hendrik Rudolph's brother, and his wife should have taken care of Johanna. This story is probably not correct.
Johanna married Hendrik Eduard Victor Bruins and died in 1940.
Hendrik Rudolph Beijen Junior
Hendrik Rudolph Beijen Junior (12.5) was born in 1881 (according to other sources in 1880 or 1882) on the island of Ternate. In those years his father, Hendrik Rudolph Senior, was the military commander of the island. His mother was a native woman called Dinah. On the right are three pictures from various stages of his life.
Hendrik Rudolph Junior lived and worked in Garut and other towns in Western Java. As far as we know he was unmarried, but he acknowledged three children of native women.
In 1952, in the turbulent period after the Indonesian independence, when Hendrik Rudolph was the administrator of a rubber company, he was raided and murdered by robbers when he was en route with money for the payment of the wages.

As far as we know, Hendrik Rudolph Junior had one son and two daughters. The son, Jan Fortuin Beijen (or Beyen) (13.3), was one of the victims of the Japanese occupation of the Dutch East Indies who are discussed on the next page.
Johan Franco Beijen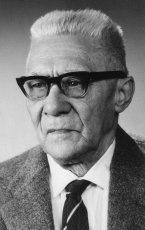 Johan Franco Beijen (12.6) was born in 1885. He did not belong to the continuous series of the Johan Franco's I to VI that is discussed on the previous pages, as his father had another given name.
For many years Johan Franco was an superintendent of the governmental Forestry. In 1907 he married Susanna Rosalie Martherus. They had four children. After the marriage was dissolved by divorce, he married Nji Mas Soehaemi (Imik) in 1926. With her he had one son.
In the fifties Johan Franco's children and grandchildren moved to the Netherlands. He himself stayed with his wife in Indonesia. In 1958 however Johan Franco decided to come to the Netherlands, but his wife remained in her homeland. Johan Franco, who had opted in 1951 for the Indonesian citizenship, got his Dutch citizenship back in 1960. At the right is a picture of him from 1962.
Johan Franco died in 1969.

Johan Franco's second son, Rudolph Beijen (or Beyen) (13.8), is discussed on the page Victims of the Japanese occupation, just as his cousins who were mentioned above.