Gerrit Jan Beijen and Gesina Overbeek
On the page From Bijen to Beijen a part of the wedding certificate of Gerrit Jan B(e)ijen (4.5) and Gesina Overbeek from 1868 was shown.
Gerrit Jan and Gesina lived in Gerrit Jan's parental farm house in Hengelo. They had three children: Gezina (5.1), Jan Willem (5.2) and Antoon (5.3). Gerrit Jan died in 1880, when he was 47 years old. At that time the youngest child was only one and a half years of age. The eldest child, Gezina, died seven years after her father when she was sixteen years of age. Gesina Overbeek continued living in the farm house with her two sons. She survived her husband by 26 years: she died in 1906.
Willem Jan Beijen en Grada Wolters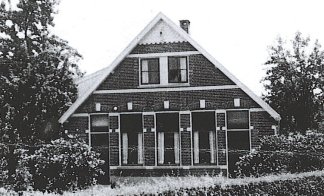 In 1909 Jan Willem Beijen, the eldest son of Gerrit Jan and Gesina, married Grada Johanna Wolters.
Around 1910 Jan Willem had built a new little farm house in Hengelo, probably at the same place where the house of his father and grandfather had been. It is depicted here. His brother Antoon (usually called Toon), who was not married, lived in the same house. They were working in weaving factories and had additional earnings from the farm.
During World War II, when there was a severe shortage of food, many people from Hengelo could get milk, fruit and other food from the farm. Grada could not refuse to help people.
Jan Willem en Grada had ten children, four of whom died at a young age. The picture below must have been taken on the occasion of their silver wedding anniversary in 1934. In front their daughter Siny (Gesina, 6.10) is standing. At the back are from left to right Anton (Antonius, 6.8), Jan (Johannes, 6.3), Lyde (Aleida, 6.7), Bernard (Bernardus, 6.4) and Willy (Willem, 6.9).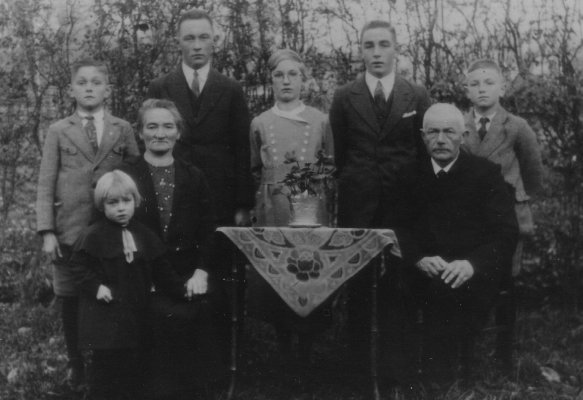 The later years
Willem Jan Beijen died in 1946, his brother Toon in 1954 and his widow Grada in 1963.
Because of his job, the eldest son, Johannes (Jan), moved to Haarlem in the province of North Holland. He married there a woman from Haarlem. For a number of years they lived in South Africa, but later on they returned to Haarlem. Jan died when he was 44 years old. Most of his descendants still live in North Holland.
The other children of Willem Jan and Grada lived in the Hengelo area, just as most of their descendants.