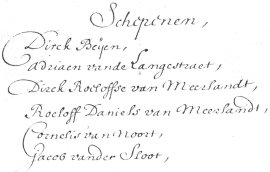 Dirck Beijen (5.5) was one of the children of Gijsbert Beijen (4.5) who were mentioned at the end of the previous page ("Gijsbertsz." in the heading of this page means "Gijsbert's son"). Just like his father Dirck was a 'chirurgijn'. Dirck remained in IJsselstein, while two of his brothers had the same profession in neighbouring towns: Johannes (5.4) in Vreeswijk and Apher (5.8) in Montfoort.
Dirck was also for many years (from 1665 to 1675) an alderman of IJsselstein. Right at the top the names of the aldermen who were appointed for the year 1671/1672 are recorded.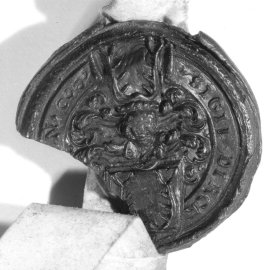 Alongside is a picture of the seal that Dirck used when he was an alderman. There are two images of the well-known pair of deer's antlers: at the top and at the bottom of the circle.
Dirck had other public functions as well. In the years 1663 and 1664 he was the chief of the citizen's militia and during a number of years he was a member of the local church council.
The most striking aspect of Dirck, however, were not his achievements as a 'chirurgijn' or a local administrator, but the fact that he was married not less than four times, and that those weddings followed each other extremely quickly: within 36 months (July 1667 - June 1670) he was married to four different wives!
Grietchen van Swartsenborch
Dirck's first wife was Grietchen Hendricksdochter van Swartsenborch. Most probably they married in or shortly before 1652. Between 1652 and 1663 six children were baptized. Grietchen died in 1667; she was buried on July 31, 1667.
Aletta Broens
Shortly afterwards, Dirck married Aletta Broens. On January 31, 1669, a son from this second marriage, Nicolaes, was baptized. Aletta died two weeks later, probably as a consequence of puerperal fever. She was buried on February 16.
Josina le Pluck
Only two months later, on April 5, 1669, Dirck Beijen and Josina le Pluck, who was born in Amsterdam, gave notice of their wedding through the Amsterdam register of intended weddings. It is unlikely that the bridal couple went to Amsterdam for publication of the banns; registration took place on written request of the reverend Jodocus van Laren from IJsselstein. It is not known when the wedding took place. On January 23, 1670, less than one year after the baptism of Nicolaes, Dirck's son Joannes was baptized.
Just as had been the case for Aletta, Josina's first delivery was fatal. On January 31, lying seriously ill in her bed, she made her will. Shortly afterwards she deceased.
Cornelia van Laren
Very soon after that Dirck Beijen was arranging his fourth wedding. It was a coincidence that this time Cornelia van Laren, a daughter of the local clergyman who was mentioned before, was the bride-to-be. Dirck's plan was not appreciated by his intended father-in-law, probably because of Dirck's frequent weddings. Anyhow the reverend Van Laren was not willing to assist in the usual religious celebration of the wedding. This was a fascinating situation because Dirck Beijen was a member of the church council. Dirck and Cornelia did not resign to the resistance of Jodocus van Laren. They suggested a civil wedding or a wedding in a church in a neighbouring town.
On April 18, 1670 there was a heated discussion in the IJsselstein church council. Eventually Jodocus van Laren decided to make the best of a bad bargain, and declared that he would not forbid the wedding, although he still didn't agree with it.
On April 28 Dirck's fellow aldermen agreed with the request of Dirck and Cornelia to proclaim their intended wedding at the city hall. The exact date of the wedding is not known.
On December 26 of the same year the first child of this fourth marriage, Cornelia, was baptized. According to the IJsselstein register of baptisms seven other children followed in the years 1672-1687. According to another source Dirck and Cornelia also must have had a ninth child in 1688/89.
Finally
Dirck died at the end of 1692. There are indications that his widow Cornelia van Laren moved in later years to the Amsterdam area. She must have passed away in or after 1707.

We may conclude that Dirck probably had 17 children: six from his first, one from his second, one from his third and nine from his fourth marriage. Several of these children died in infancy. As far as we know eleven children reached the marriageable age. The next page contains more information about some of these children and their descendants.